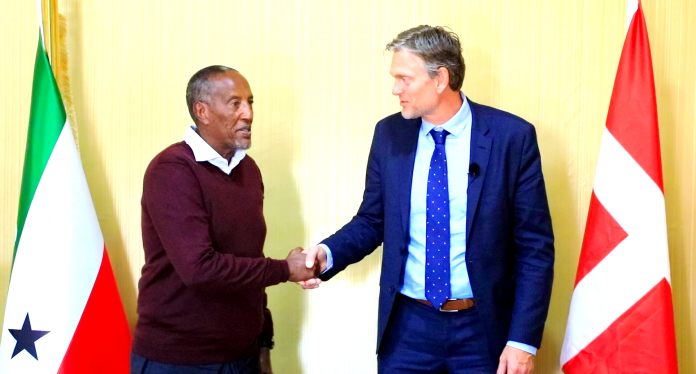 The President of the Republic of Somaliland H.E. Muse Bihi Abdi has today received Denmark Ambassador to Kenya Amb. Ole who is on state visit to Somaliland.
In the meantime, issues pertaining to the forthcoming parliamentary and local government elections have been the subject of discussion between the two sides.
Likewise, President Bihi and Amb. Ole had fruitful talks over the Somaliland Development Fund and Denmark's remarkable efforts in playing significant role over the European donations in the SDF.
Pledging for the continuation of efforts in supporting Somaliland, Amb. Ole, reiterated that his government has the ultimate morale in contributing to the Republic of Somaliland through SDF.
Heaping accolade on Somaliland's peace, and security, the ambassador urged the President to carry on the vigilance and tranquility that exist in the country.
In his remarks, President Bihi expressed his gratitude for the Denmark government on its contributions to the SDF and as being the first European country to open an Office here in Somaliland.