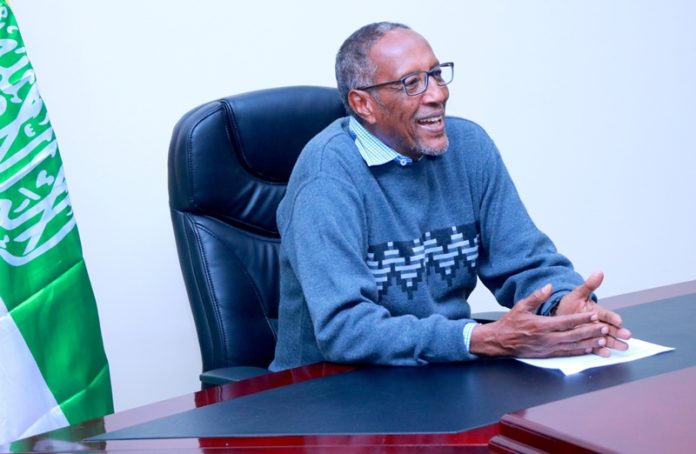 His Excellency the President of the Republic of Somaliland, Musa Bihi Abdi, has reshuffled out of government several ministers he had only appointed in April this year.
Minister Abdirizak Ali Abdi of Justice and Abdirahim Osman Haji Abdi, Planning, were among a phalanx of ministers and vice-ministers the President took aboard earlier in the year in his second reshuffle since he took office in December 2017.
Planning, in this current government-pot stir, also, deprives Planning Ministry of Its vice-minister, Hussein Ibrahim Buuni – one of the most vocal supporters of the President's ruling party – Kulmiye.
Unexpectedly, the President takes on one of the most critical members of the old UDUB government Saeed Sulub Mohamed, who held several ministerial posts under presidents Rayaale and Egal, will in this Sunday reshuffle assume Livestock and Fisheries portfolio.
Hassan Mohamed Ali 'Gaafaadhi', the former Minister at this ministry moves to Planning and National Development – a minister to the nation's ambitious development plans.
Ahmed Mohamed Derie 'Torno' – an academician who had never immersed himself in politics, will become the new minister of education and Science.
Mustafe Mohamoud Ali 'Godane' – another relative newcomer to the political scene, takes over Justice. Mahdi Osman.
Osman Adan Jama, Minister of Education, and Abdulkadir Mohamoud Sheikh, Vice Minister of Finance, also, lose their posts.
Abdullahi Mohamed Dahir 'Ukusse' – a very vocal former Minister of Information, becomes an Advisor to the President on election matters.
Ministers Mohamed Musa Derie and Suleiman Ali Koore change places with the latter moving from Water Resources to Information and Derie going the other direction.
Mahdi Abdullahi Osman, once more, comes back to Health as its Vice Minister. Liban Yussuf Osman, Abdulkadir Omar Jama and Musa Ibrahim Yussuf, the other vice-ministers in this latest government-change, assume roles in Foreign Affairs, Planning and Finance, respectively.