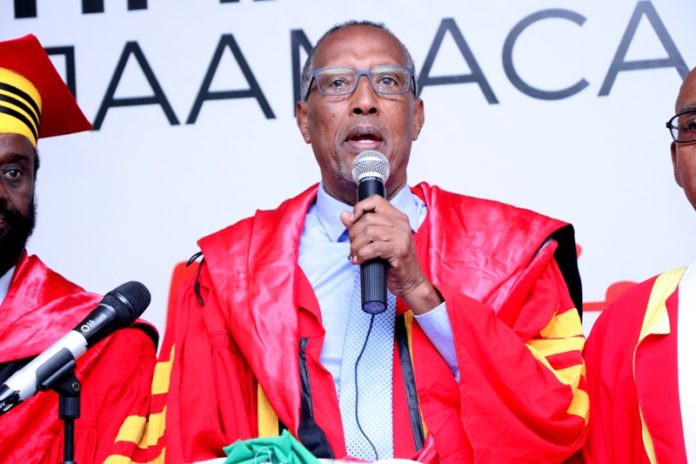 On an impressive working tour to attend a glitzy ceremony, the incumbent president of the Republic of Somaliland H.E. Muse Bihi Abdi attended the graduation ceremony of one of the most privileged universities in Somaliland – Amoud University.
Accompanied by members of the cabinet ministers, the president dispatched from Hargeisa to address the ceremony. 
Upon reaching the Borama, the president received a warm welcome from top brass officials of Awdal region, government officials hailing from that region, and the chancellor of Amoud University Prof Saleban.
In his remarks, the chancellor of Amoud narrated the ample history of Amoud University to all Somali-speaking societies.
Amid cheers and applause, the chancellor of Amoud University revealed that this university was once the alma mater of the president of Somaliland.
"I hereby extend my congratulations to the youthful citizens who join our national workforce with much needed knowledge for their diligence and perseverance leasing to graduation" said president Bihi adding that accolades are also due parents and lecturers who made the process a success.
President Bihi has briefed his accomplishments during his tenure in office. The president stated that his government is in pursuit to vividly reform education, health and security sectors.
Education being the cornerstone of our nation's Development and road to alleviating poverty, it is without doubt a honour for me to participate in this event, added the President.
In a nutshell, the president urged the university to conduct researches to solve recurrent conflicts between brotherly clans.
Muse Bihi Abdi, the president of the Republic of Somaliland, reiterated the need to conduct researches on the recurrent vendettas and the most pressing issues at hand.
Bearing the pressing issues, the president also lauded the Chancellor of Amoud University Prof Suleiman Gulled for the unwavering determination, commitment and strive towards the attainment of education goals.
President Abdi also confirmed that challenges are always ahead when undertaking a reform. "To initiate a reform, you should bear in mind that challenges are always ahead."
Lastly, the president urged the graduates to play their role and demonstrate their talent and knowledge to their country.