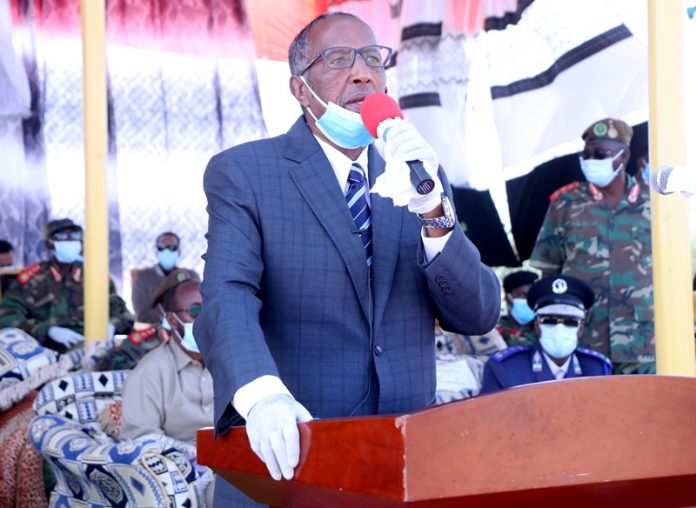 The President H.E. Musa Bihi Abdi joined the military fraternity in underscoring the role the various security arms in the country play in a nation. The Head of State addressed the Abdillahi Askar military base which houses the main military academy in the country.
H.E. Musa Bihi passionately addressed the security personnel who paraded military apparatus in an immaculately guarded, they mounted to his honor hence underlined the importance of stability for development, as he toured the main military academy.
The President noted that it was the first time cadet officers undertook their courses at the academy. He equally pointed out that it was also the first time 10 female cadet officers have been part of the group.
He underpinned the three main pillars on which a soldier's essence rested on namely patriotism, bravery and aspiration. The President similarly underpinned the important role the Police played in securing a daily stable scenario amongst the populace on a day and night basis.
He noted that their busy schedule was unparalleled and that the state will continue to bolster the department such that the police would nurture an amicable rapport with the members of the public for maximum services to be delivered.
The Chief Military commander Major General Nouh Ismail Tani thanked the President and hailed him for having made several developmental steps that has gone well in the security sector. He noted that the military parade would in a way remind the nation on their aspiration, as it coincides with the 18 May anniversary week.
The Chief Police Commander Brigadier General Mohamed Adan Saqadi on his part said that his department would continue its streamlining of the service by stepping up modernization of the sector.