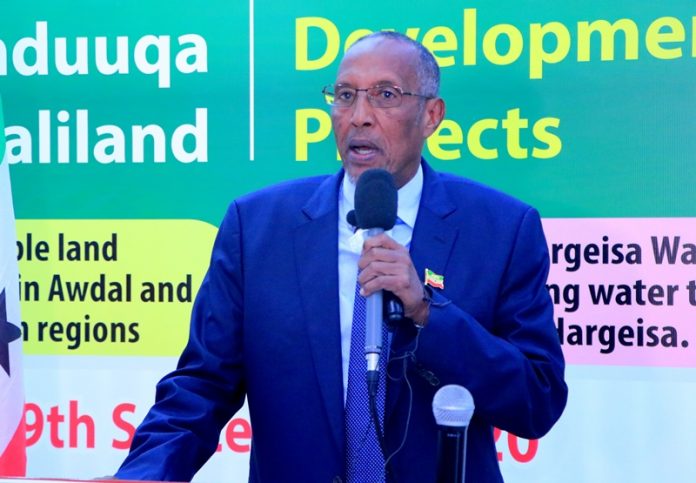 The President of the Republic of Somaliland, H.E. Muse Bihi Abdi has launched the 2nd phase of Somaliland Development Fund Projects and President has addressed the launching ceremony held in Hargeisa.
Attendees of the grand opening ceremony of SDF2 were also  Minister of the of Planning and National Development Hon. Hassan Mohamed Ali Gafadhi, officials from International Development Partners, SDF officials and other distinguished dignitaries. The SDF Deputy Team leader, Najah Adam, has explained the Somaliland Development Fund phase 2nd Projects intended to implement during this second phase.  "SDF-II will fund 9 projects of inclusive economic development. Among them is a construction of a fishing jet in Maydh and the rehabilitation of Berbera-Buaro Road which is upon completion, and which of course will reduce the travel time by 21%", said Najah.
In addition to that, Mr. Morgan Riley from UK Foreign, Commonwealth & Development Office has expressed the SDF phase 2 projects.  "In selecting these projects, we are guided by the National Development Plans (NDP-I/II). These projects will support hundreds of thousands of people in Somaliland", said Morgan Riley.
The Minister of Planning and National Development Hon. Hassan Mohamed Ali has admired the Somaliland Development Fund phase1 projects. In his remarks, Hon. Hassan said, "SDFI realized the implementation of 12 projects across the country in various sectors that included (water, roads, agriculture, livestock, environment, health and education) with an overall budget of USD 58 million."
Finally, the President of the Republic of Somaliland His Excellence Musa Bihi Abdi highlighted the importance of the Somaliland Development Fund phase II to the nationwide while the President thanked the United Kingdom, the Kingdom of Netherlands and the Kingdom of Denmark for their commitment and support to Somaliland development and infrastructure projects.