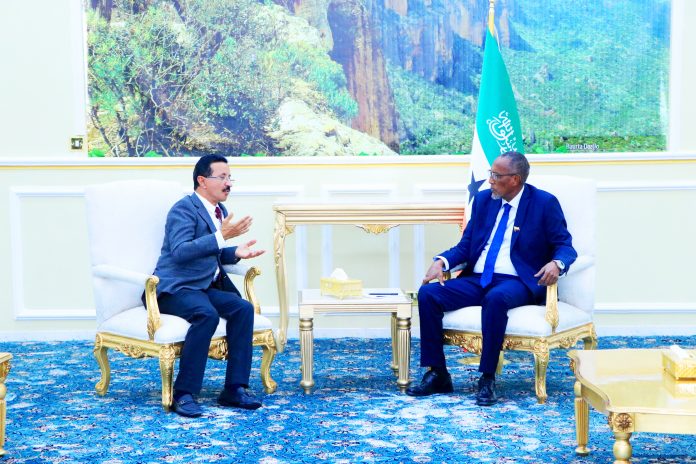 The President of the Republic of Somaliland HE Muse Muse Bihi Abdi has received a delegation headed by DP World CEO Sultan Ahmed Bin Suleyman at the Presidential Palace.
e meeting was aimed at speeding up the partnership between the Republic of Somaliland and DP World, paving the way for the inaugurating of the first phase of the Berbera port, which has been completed and will be opened soon, and discussed how to move on to the second phase of the expansion Berbera Port.
President Bihi & Suleyman discussed issues pertaining to business opportunities surrounding the use of the Berbera port, such as the Berbera Corridor trade route and its expansion, as there will be a large number of shipments to neighboring Ethiopia and the eastern and central countries. Africa.
They also discussed the modernization of the work to facilitate Berbera customs and Tugs to make Berbera port the Horn of Africa hub, and could can make progress to the African community.
The President was accompanied by the Ministers of Finance, Planning and National Development, Livestock and Fisheries Development, the Deputy Minister of Foreign Affairs and International Cooperation, the Somaliland Ports Manager, and the Somaliland Ambassador to the United Arab Emirates and members of the Berbera port board.