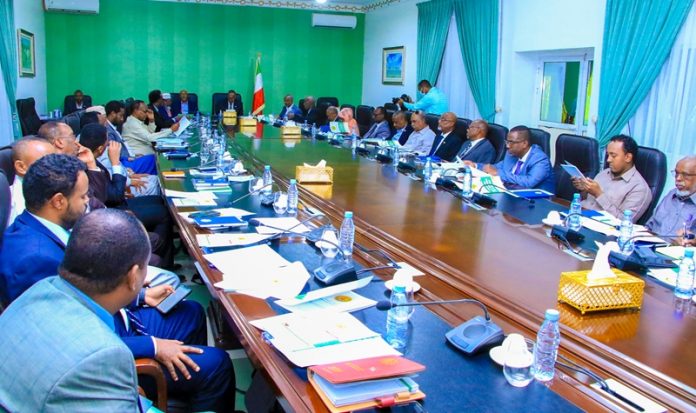 Chaired by the incumbent President of the Republic of Somaliland H.E. Muse Bihi Abdi, the 77th session of the cabinet members took place at the Presidency early this morning. 
Prior to the start, the council heard a briefing from the Minister of Interior, Hon. Mohamed Kahin Ahmed, who briefed them about the plans to accelerate the overall security in the country and the efforts of the various security forces to ensure national security. Additionally, the Deputy Minister of Foreign Affairs and International Cooperation, and acting Minister of Foreign Affairs, Mr. Liban Yusuf Osman briefed the council on the contents of the national country profile  prepared by the Ministry and distributed copies to the cabinet members. 
Furthermore, the council heard a report from the Minister of Finance, Dr. Sacad Ali Shire, who made some remarks on the budget estimates for 2022-2024. The Minister shared with the  cabinet the forecast for the revenue and priorities for spending as well as the overall state of the country's economy. Afterwards, the council had a further discussion on the 2022-2024 budget estimates. 
Apart from the endorsement of the national budget,  the Minister of Environment and Rural Development, Ms. Shukri Haji Ismail Baandare briefed the council on the Ministry's increased efforts to prevent environmental degradation, especially the burning of wet plants for making charcoal which has been getting traded illegally for quite some time now. And the efforts of the Ministry to put an end to the ecological damage which has been doubled.