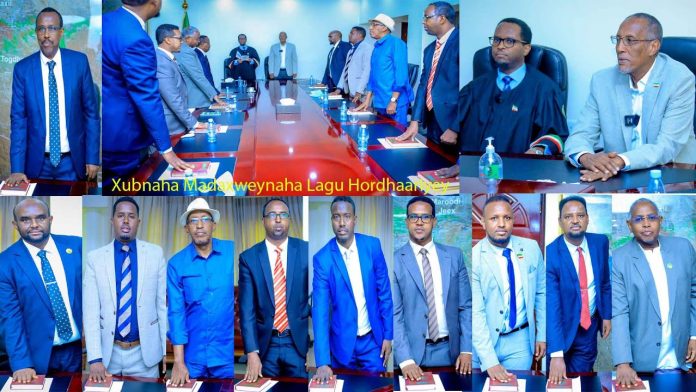 The Chief Justice of the Supreme Court of the Republic of Somaliland, Adan Haji Ali Ahmed, yesterday sworn in before the President of Somaliland, H.E. Muse Bihi Abdi, various officials including ministers, deputy ministers and heads of independent institutions.
Prior to the start, Chief Justice Adan Ahmed, who spoke there, prayed for the officials sworn in yesterday and encouraged them to always serve their nation with dignity and honor. Afterwards, all the newly appointed officials laid their hands on the Koran and promised to be faithful to the people, the country and the religion of Islam.
After the swearing-in ceremony, President Bihi gave words of encouragement to the sworn-in officials as they began their national responsibilities, urging them to fulfill their obligations and serve the community with integrity.
Below are the newly sworn in officials:
Minister of Agriculture Development, Mr. Abdikadir Iman Warsame

Minister of Planning and National Development, Dr. Ahmed Adan Buuhane

Deputy Minister of Employment, Social and Family Affairs, Hon. Abdimajiid Ibrahim Muumin

Deputy Minister of the Ministry of Information, Culture and Publicity, Mr. Said Hasan Habbane

Deputy Minister of Animal Husbandry and Fisheries Development, Hon. Mohamud Jama Warfa

Deputy Minister of Public Works, Land and Housing, Hon. Mohamud Warsame Jama

Chairman of the Quality Control Agency, Mr. Mukhtar Mohamed Ali and his deputy, Hon. Hamse Abdi Ibrahim

Chairman of the National Insurance Agency, Mr. Guleed Musa Galal and his deputy, Hon. Mohamed Hussein Ahmed