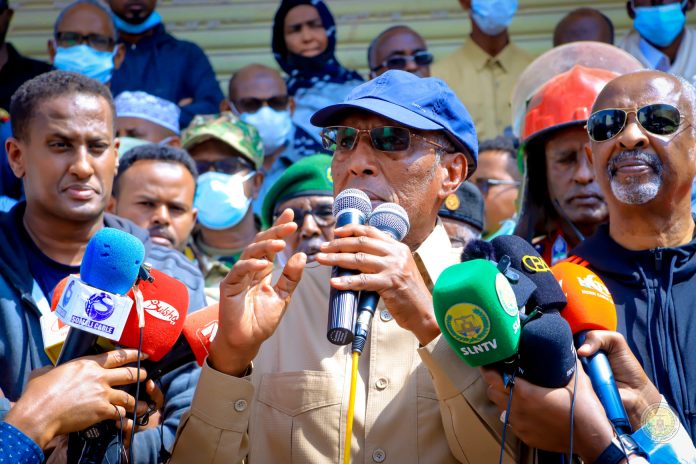 The President of the Republic of Somaliland, H.E. Muse Bihi Abdi, today inspected WAAHEEN market, Hargeisa main market, which was engulfed in flames last night, completely destroying hundreds of businesses.
The Minister of Interior, Hon. Mohamed Kahin Ahmed, and the Minister of Religion and Endowments, Sheikh Abdirizak Hussein Ali (Albani), spoke at length about the scale of the tragedy and offered their condolences to the affected community.
Similarly, the Mayor of Hargeisa and the Commander of the Fire Brigade, called the fire at Waheen market a national catastrophe, and outlined the need to rebuild it as soon as possible. 
His Excellency, the President of the Republic of Somaliland, Muse Bihi Abdi, speaking to the public at the site of the fire, prayed for the victims and thanked the people of Hargeisa and the various forces for their tireless help. The president announced on the spot that the government has released a sum of one million dollars to the appointed committee to deal with the disaster.
Finally, the President called on the public to come to the aid of those who were particularly affected by the fire and whose property was destroyed.