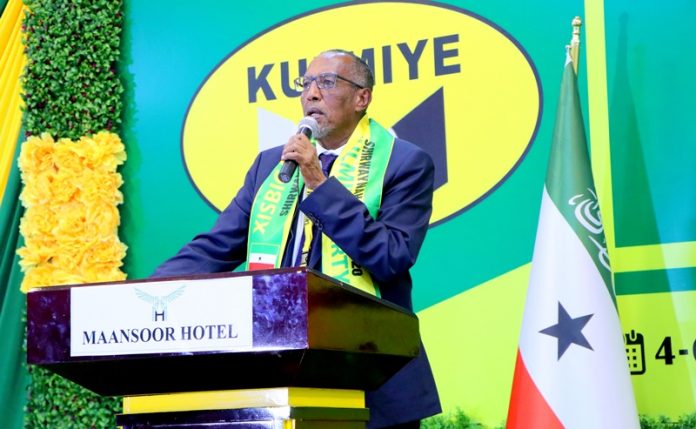 The 4th Kulmiye Party national conference which will run for three days kicked off in Hargeisa with the participation of by 1,122 (one thousand one hundred and twenty two) delegates representing all regions and districts of Somaliland.
The conference were officially opened by the President of the Republic of Somaliland, and Chairman of the KULMIYE party, Mr. Muse Bihi Abdi, who was also chief quest and key note speaker.
Apart from the 1,122 delegates who included vice president and other KULMIYE leadership, participants on special invite included the Speaker of the House of Representatives and his deputy, various delegates from Taiwan, Djibouti and the Somali Regional State of Ethiopia, members of the opposition parties WADDANI and UCID and traditional leaders among many.
To jumpstart events , the conference elected four members who will be the chairmen of the conference with mandate to guide the events and agenda namely Abdikarin Ahmed Mohamed (Hinif ), Ali Mohamed Ali (Ali Ali-yow), Abdillahi Mohamed Dahir (Cukuse) and Faisal Omar Madar.
The President of the Republic of Somaliland, and Chairman of the KULMIYE party, Mr. Muse Bihi Abdi, who officially inaugurated the Fourth Congress of the KULMIYE party, delivered a wide-ranging speech at the forum, focusing mainly on successive victories the ruling KULMIYE party has garnered during its tenure at the Somaliland presidency.
"My administration has given priority to equality of citizens, protection of the nation, protection and consolidation of the country's laws, security, welfare of civil servants, infrastructure construction, and implementation good governance, promotion and enhancement of education and the empowerment of women and vulnerable communities" informed President Bihi.
The President mentioned the former President of the Republic of Somaliland, and the Founder of the KULMIYE party, Mr. Ahmed Mohamud (Silanyo) as a political veteran who has worked hard for the country and the people, and has done a lot for his community. He also thanked the Vice President of Somaliland, Mr. Abdirahman Abdilahi Ismail (Saylici) who recently announced his resignation from the post of the party's fourth vice-chairman. described as a historic event for the party and for Somaliland as a whole.
The fourth conference of the KULMIYE party will continue for the next two days, and the plan is to elect the leadership of the party for the next term, while also discussing important issues on the agenda of the conference.