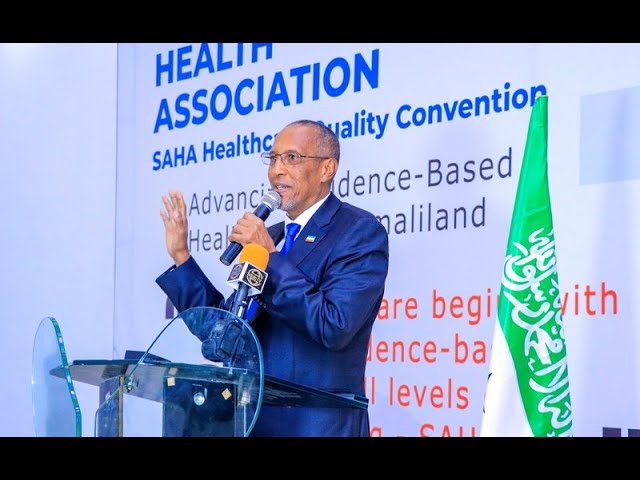 The President of the Republic of Somaliland has attended SAHA medical professionals association ceremony, where medical personnel and professionals gathered.
Hargeisa-29-06-2021 – (MT-JSL) – The President of the Republic of Somaliland, H.E. Muse Bihi Abdi, attended a large-scale event organized by the Somaliland American Health Association (SAHA) which unites Somaliland citizens who specialize in healthcare, who live and operate in the United States.
The event highlighted the importance of this group of doctors to the Somaliland community as a whole and their role in the healthcare of the country. The gathering was attended by the President along with the Minister of Health, members of SAHA, heads of universities in the country, as well as independent doctors and other dignitaries, who outlined the important work that this organization does for the people and what they want to do for the future of their country.
First of all, Dr. Abdirahman Mohamed Madar and Dr. Mohamud Dahir Afq-qarshe of SAHA, who spoke at the event, said the organization is entirely made up of doctors who have volunteered to take care of their community in terms of health, muscle and wealth by providing advice and guidance to their republic, Somaliland.
Similarly, spoke at this occasion was the Minister of Health, Hon. Omar Ali Abdilahi, praised SAHA, saying that the organization has done a lot for the ministry, and has played a key role in helping and dealing with the communities most affected by Covid-19, and at the moment there are important projects from the ministry and the health sector run by this organization.
The President of the Republic of Somaliland, H.E. Muse Bihi Abdi, concluded the event by thanking the Somaliland Health Association of the United States of America (SAHA) for its commitment to their people and country.
Additionally, President Muse Bihi Abdi urged this group of doctors who are member of SAHA to continue their efforts to help their country and their community, saying, "I hope that you strengthen this organization and continue to share your knowledge and experience with your country. Your nation knows you and is grateful to you. Keep up the good work."