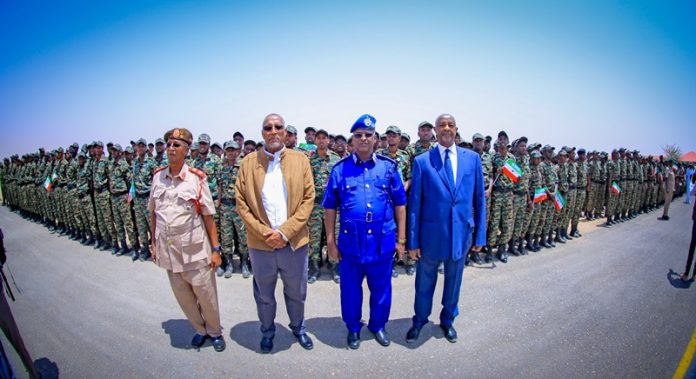 The President of the Republic of Somaliland, H.E. Muse Bihi Abdi, today closed the third batch of the national recruitment program at the Dararweyne training college in the northeast of Hargeisa. the capital of Somaliland.
The closing ceremony was attended by distinguished guests including the Commanders of the Armed Forces, the Director of the National Service Program, members of the Cabinet, along with their instructors and other members of the public. The President first greeted a contingent of the national army and observed the display performed by the batch that graduated today.
First of all, the Director of the National Service Program, Mr. Mohamed Hussein Osman (Mu'addinka) who opened the event, spoke at length about the various stages the college has gone through, and pointed out the administrative and national support for today's young graduates, and are confident that they will benefit their nation.
The newly elected Mayor of El-Afweyn district in Sanaag region, Mr. Mohamed Aden Digale, who was one of the graduates of the second batch of National Service Program, gave a short speech about the valuable lessons he learned from the college and how it contributed to his success. He said he was a living example of a bright future for the youth of the National Service.
Commander of the National Army, Major General Nuh Ismail Taani, Special Envoy for dialogues between Somaliland and Somalia, Ms. Adna Adan Ismail, Heads of Universities, Prof. Saleban Ahmed Guled and Prof. Mohamed Yusuf, in their closing remarks, described it as gratifying that young intellectuals, armed with patriotism and skills, are graduating for the third time from the National Service Program, a milestone in the aspirations of President Muse Bihi Abdi.
Similarly, the Ministers of Finance, Dr. Saad Ali Shire, Internal Affairs, Mr. Mohamed Kahin Ahmed, Employment, Family and Social Affairs, Mr. Mustafe Mohamed Ali Bille, congratulated the graduates of Dararweyne Training College and urged them to share the patriotic lessons they have acquired during their time there, for the benefit of their people and country.
President Bihi concluded the third batch of National Service graduates from the National Service College today. He congratulated the National Service, their director and those who trained them. He also urged the graduates to stand up for all that's good and prevent anything that could harm their country and their people.