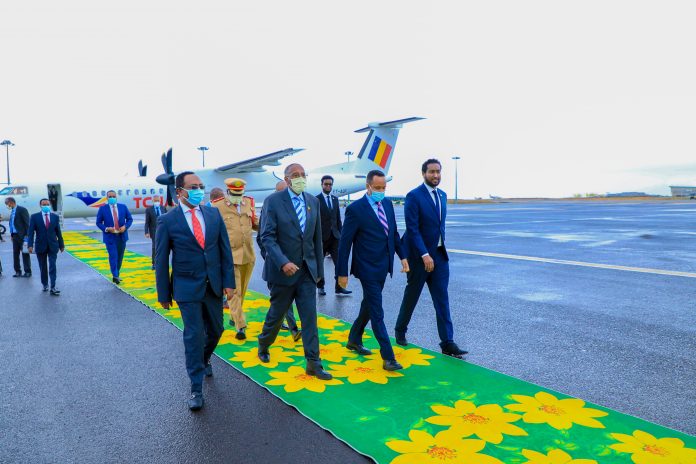 The President of the Republic of Somaliland, H.E. Muse Bihi Abdi, and a delegation led by him left for Addis Ababa on a working visit at the official invitation of the Prime Minister of Ethiopia, Abiy Ahmed.
The President and his entourage will travel for several days, during which they will hold private meetings with various senior Ethiopian government officials and other leaders.
Upon arrival, President Bihi was warmly welcomed at Addis Ababa International Airport by senior Ethiopian government officials. Among them are the Minister of Finance of the Federal Government of Ethiopia, Mr. Ahmed Shide and the Minister of State for Political Affairs of the Ministry of Foreign Affairs of Ethiopia, Mr. Redwan Hussein. After resting at the airport's VIP lounge, President Bihi and his delegation were escorted to the designated venue.
President Bihi is accompanied by the Minister of Finance, Dr. Saad Ali Shire, and was joined by another delegation from Addis Ababa as a prelude to the President's visit, which included Ministers of Foreign Affairs and International Cooperation Issa Keyd Mohamud, Transport and Road Development Abdirizak Ibrahim Mohamed (Ataash) along with the Special Envoy for Dialogue between the Republic of Somaliland and Somalia.