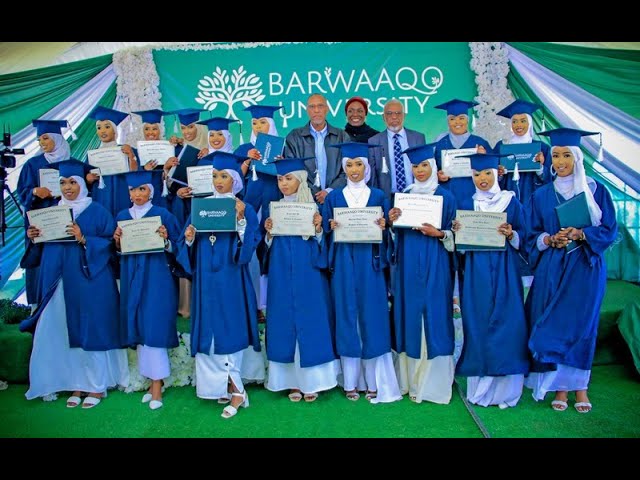 Today, the incumbent president of the Republic of Somaliland, H.E. Muse Bihi Abdi, attended the graduation ceremony of the only all female university in Somaliland – Barwaaqo University.
Barwaaqo is a high quality, women's boarding university in Somaliland that aims to change the trajectory of opportunities for young Somali women who will go on to rebuild a nation. Currently, it focuses on a school of education that will turn young Somali women into leaders in the classroom, who will then go on to educate the next generation of Somali youth across the country. Today it graduated its first batch of students who will hopefully go on to serve their country all across the board. 
Among those that spoke at the graduation event was Joy Isa who is the current head of Barwaaqo University. Joy congratulated the graduating class from Barwaaqo university and said, "We are here to celebrate the hard work and courage that these women took to join this growing institution. Our mission in Barwaaqo university is simple: to empower Somali women to become professionals who drive development in their communities. Our focus on the values of integrity, tenacity and reasoning equibs our students with the characteristics they will need to become great teachers and even greater role models."  
Similarly, speaking at the event, was Rob Kaufman, who said a few words on behalf of their partner of the US government, Gordon Weynand. Gordon Weynand is head of the local faith and transformative partnership hub at the USAID Bureau for development, democracy and innovations. In his message Gordan said, "This program was founded on the idea that access to quality education is essential to a successful, thriving society. Barwaaqo embodies the ideal as demonstrated by the graduation of this successful woman today. It is an honor to celebrate this day with you and offer you my congratulations." 
His Excellency, the President of the Republic of Somaliland, Musa Bihi Abdi, speaking at the graduation of Barwaaqo University, stated how happy he was to be attending an only girls' university graduation in our country. In his remarks, the President said " I am happy to see an addition of trained female teachers equipped with all they need to educate our youth, coming out of Barwaaqo University. Unfortunately, there are those in our country that wish to smear the good name of Abaarso School, Barwaaqo University and likewise institutions in our country by saying they are on a mission to convert or weaken the beliefs of our youth. So, I investigated for myself about the workings of Abaarso and Barwaaqo, and found out that there are only good things going on in these institutions that will benefit Somaliland. Therefore, I urge all Somalilanders to support and stand with these institutions as they work to educate our youth, who will go on to rebuild and strengthen their nation."
President Bihi extended his deepest congratulations to the graduating class of Barwaaqo University and urged them to continue the resilience they have shown in the face of adversity and always strive to take part in their country's development.