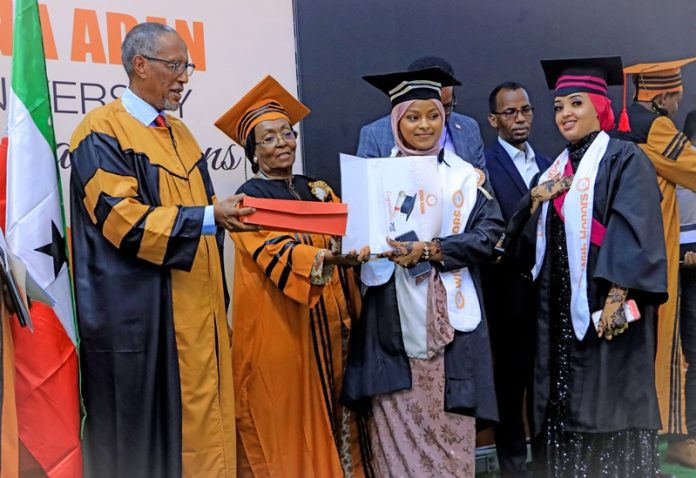 The President of the Republic of Somaliland, H.E. Muse Bihi Abdi has attended the graduation ceremony of Edna Adan University. The graduation ceremony was held at Mansoor Hotel in Hargeisa, and was attended by cabinet ministers, parliamentarians, ambassadors, and academic administrators of the University, parents along with other dignitaries.
In her remarks, the Chancellor of  Edna University, Dr. Edna Adan Ismail addressed the audience on the landmark efforts, dedications and unwavering determination of the graduates. " I have a lot of confidence in the broad knowledge the graduates garnered, and I believe they will bring about visible changes in their communities. I urge the graduating students to always continue learning so they can go on serving their country in the best way possible," said Dr Adna.
Speaking at the event, the Minister of Education and Science, Mr. Ahmed Mohamed Diriye Torno alongside with the Mayor of Hargeisa, Mr. Abdikarin Ahmed Mooge all congratulated the graduating batch and urged them to redouble their efforts in education, keeping in mind that the future of their country rests in their hands.
His Excellency, the President of the Republic of Somaliland, Musa Bihi Abdi, stated how happy he was to be attending this graduation ceremony. In his remarks, the President said " Congratulations to the graduates, their parents and teachers. Today, you graduates are all a source of pride for our nation and I praise all those who contributed to this great achievement, especially Dr. Edna Adan Ismail. Surely, all of Somaliland will greatly benefit from the arrival of so many scholars." 
In the end, the Head of State awarded their Bachelor degrees to the top students who garnered high grades in the health related disciplines.