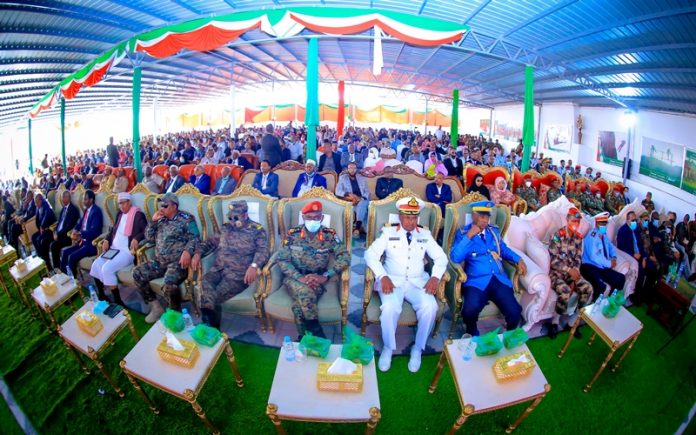 The President of the Republic of Somaliland, H.E. Muse Bihi Abdi, and Commander in Chief of the Armed Forces, attended a grand ceremony to mark the 28th anniversary of the founding of the national army of the Republic of Somaliland at the headquarters of the national army.
The ceremony was attended by the Speaker of the House of Representatives, Mr. Abdirizak Khalif Ahmed, the Chairman of the Supreme Court, Mr. Aden Haji Ali Ahmed, various commanders of the armed forces, members of the cabinet, members of parliament, and members of the National Alliance. Present was also a delegation from Djibouti led by the Deputy Commander of the Djiboutian Armed Forces General Dahir Ali Mohamed along with a Ethiopian delegation led by General of the Ethiopian Armed Forces General Burhan Bekel, and many other dignitaries. The various achievements of the military and their role in peace, border security and national development in Somaliland were highlighted.
First, the national army singers gave a stunning performance, showcasing the role of the army in the development of the country such as strengthening security, resolving disputes and establishing governance. 
Djiboutian Police Chief Colonel Abdullahi Abdi, speaking on behalf of the Djiboutian delegation, praised the Somaliland military and described it as a dignified force, congratulating them on their anniversary. Likewise, speaking on behalf of the Ethiopian delegation, General Mohamed Haji of the Somali Regional State commended the Republic of Somaliland and its forces for the progress they have made in various areas, as well as the good cooperation between the forces of neighboring countries.
The Commander of the Armed Forces of the Republic of Somaliland, Major General Nuh Ismail Taani, spoke about the progress made by the national army, its current status and how it has become a symbol of national dignity and development. He also stated that the Republic of Somaliland has an outstanding military that is well-equipped and well-trained and is carrying out its duties.
Similarly, the Minister of Defense, Mr. Abdiqani Mohamud Aateey (Farid), for his part, praised the 28-year-old military of the Republic of Somaliland, and spoke about the various military development projects, currently funded by the national budget. 
His Excellency Muse Bihi Abdi, the President of the Republic of Somaliland, and Commander-in-Chief of the Armed Forces, has sent a message of congratulations to the Armed Forces, their leaders, and their spouses, describing them as heroes who have sacrificed their lives for the nation. "Congratulations to the various Somaliland forces engaged in their national and regional security responsibilities. I congratulate all of them for fulfilling their responsibilities, for maintaining peace in Somaliland, and for establishing lasting relations with our neighboring countries," said President Bihi. 
Finally, President Bihi inspected a state-of-the-art hospital built inside the Birjeh compound and unveiled new military facilities.