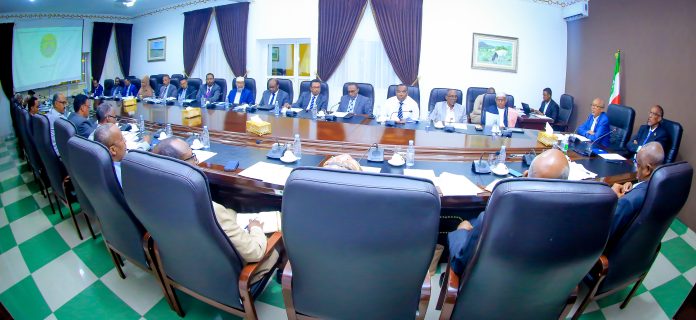 The 87th session of the Council of Ministers of the Republic of Somaliland, chaired by the President of the Republic of Somaliland, H.E. Muse Bihi Abdi and accompanied by the Vice President of Somaliland, today addressed a number of issues such as the security situation, the widespread drought and other important issues.
The Minister of Information, Public Awareness and Culture of the Republic of Somaliland, and Spokesperson of the Government, Mr. Saleban Yusuf Ali Koore, addressed the media at the end, noting that the drought situation in the country was the main focus of today's meeting. In his remarks, the Minister said, "The cabinet has held in-depth discussions on the drought situation in the country, with the president already announcing a committee led by the vice president. Their work is going well, and the work is being done in the right places and in the right way."
Other issues discussed at the conference included how the public can beware of fraud and harassment on social media. The Council urged the public to stay away from news outlets that are spreading misinformation and to double check everything posted on social media.
Finally, the Council discussed in depth the security situation in the country, and the Minister of Interior, Mr. Mohamed Kahin Ahmed who gave a full briefing to the council stated that the general security of the country is improving.