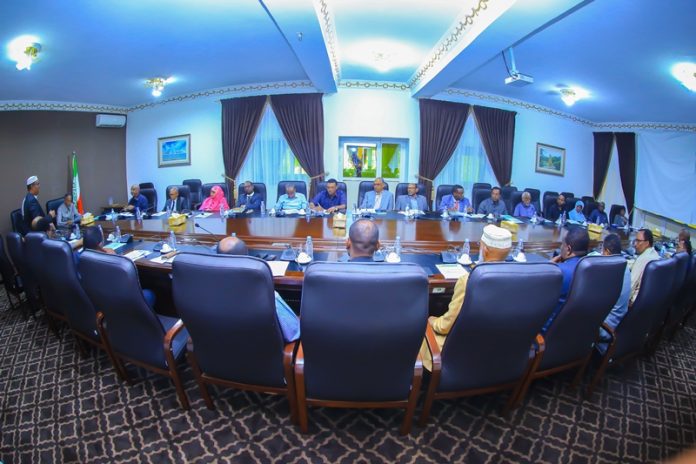 The 91st session of the Council of Ministers of the Republic of Somaliland, chaired by the President of the Republic of Somaliland, HE Muse Bihi Abdi, and accompanied by the Vice President of Somaliland, Abdirahman Abdirahman Abdillahi Ismail (Saylici) today addressed a number of issues including the 18-MAY commemoration, Waaheen Market Reconstruction and Security and Drought Issues.
Prior to the start, the Minister of Interior, Hon. Mohamed Kahin Ahmed, first shared with the council the overall security situation in the country as preparations begin for the 31st anniversary of the Republic of Somaliland. Minister Kahin, who is also the chairperson of the organizing committee for the May 18th commemoration, presented to the cabinet the celebration plans the committee has prepared thus far for this year's May 18th. 
The Vice President of the Republic of Somaliland, and Chairman of the Drought Relief Committee, Abdirahman Abdilahi Ismail (Saylici) briefed the cabinet on the onset of the Gu rains in the country, noting that the country has received moderate rains. Despite this, the VP said the Drought Relief Committee will continue its ongoing drought relief efforts as there is still a high need for food and nutrition for drought-affected livestock.
On another note, the Minister of Religious Affairs and Endowments, Sheikh Abdirizak Hussein Ali (Albani), who is also the Chairman of the Waheen Market Emergency and Support Committee, briefed the council on the ongoing operations of the Waheen Market. This includes documenting the damage caused by the fire, registration of traders in the market, and distributing donation funds received by the committee to the fire victims. He also noted that the commission was planning to build a modern market that would be in line with the same standards as international markets. This will be done in collaboration with the Engineers of the Ministry of Public Works, Housing and Lands along with the Hargeisa Municipality Engineers and anyone with experience and knowledge in this field.
At the end of the meeting, the cabinet of the Republic of Somaliland called on all branches of government, both internal and external, and the people of Somaliland to prepare for the celebration of May 18th.