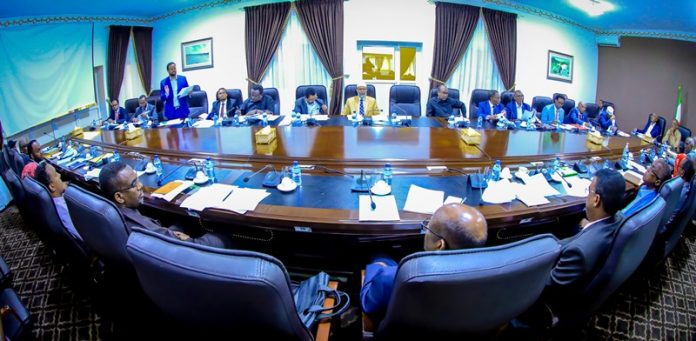 The 93rd session of the Cabinet of Ministers of the Republic of Somaliland chaired by the President, HE Musa Bihi Abdi and accompanied by the Vice President, Abdiraxmaan Abdilaahi Ismaaciil (Saylici), discussed important points focused on various issues of national interest. The Council also heard reports from the Ministers of Interior, Foreign Affairs and International Cooperation and Religion and the Environment.
Prior to the start, the Minister of Interior, Mohamed Kahin Ahmed, shared a national security report with the council and added that the security situation in the country is peaceful. The council also listened to a report on foreign policy issues from the Minister of Foreign Affairs and International Cooperation, Dr. Isa Keyd Mohamud, who has recently taken various trips to the UK and France.
The council also listened to a report about the recently burned Waahen market from the Minister of Religion and Endowment, Sh Abdirisaaq Husein Ali (Albaani), who was accompanied by the Deputy Minister of Commerce and Tourism, Musa Ibrahim Yusuf. They shared with the council the plans for the reconstruction of the waheen market as well as the settlement of the temporary markets for the people affected by the Waheen fire, which is expected to begin next week.
On the other hand, the Council has issued the following resolution at the Cabinet meeting of the Republic of Somaliland held on Thursday, June 16, 2022.
After a lengthy debate since the previous meeting, the Council has instructed the Ministry of Interior to revise the content of the Traditional Leadership Act, following the recommendations of the Cabinet Ministers. 

The Council noted that the rising cost of living and fuel prices due to inflation, a predicament a lot of countries in the world are facing and are currently engaged in national consultations. There are also severe droughts raging in the country, and the Council therefore decided to suspend development projects included in the 2022 Budget projections, so that emergency relief could be provided if the situation worsens.