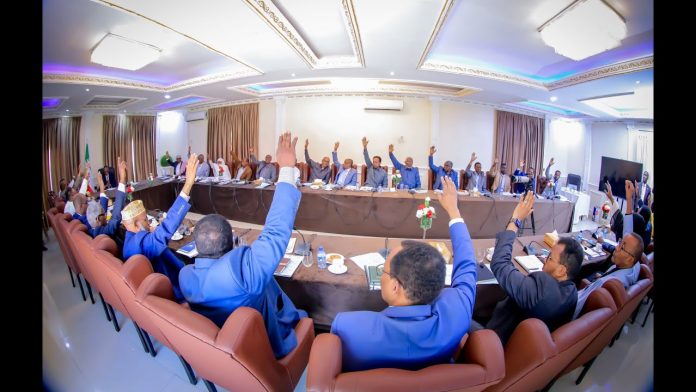 His Excellency, President of the Republic of Somaliland, Muse Bihi Abdi chaired the 111th session of the Cabinet of Ministers.
The Council discussed a variety of issues, including:
Evaluation of student national exams: The Council unanimously voted to evaluate all students from Las Anod and its districts based on their 2021-2022 exam scores for this year's national exams.

Social welfare funds: The Council heard a report from the Social Affairs Committee of the Cabinet of Ministers on a study of direct payments for social welfare distributed by independent organizations in the country. The study focused on the risks and benefits of these funds for the Somaliland community. After a long discussion and analysis, the Council agreed to establish an act addressing these social welfare funds in upcoming meetings.

Traffic and Road Act: The Council also unanimously approved the Traffic and Road Act (Act No. 56/2023).
Finally, President Bihi congratulated Somalilanders everywhere on the commemoration of the National Day of May 18 and sent special congratulations to the various forces of the country.
Somaliland's May 18th celebrations were a huge success this year, with events held in 64 cities in 33 countries on 5 continents. The celebrations were a time for joy and celebration, but they were also a time to reflect on the past and to look to the future. Somaliland is a young country, but it has a bright future ahead of it.
Nasir Yuusuf Daahir
Director of Presidential Media Department