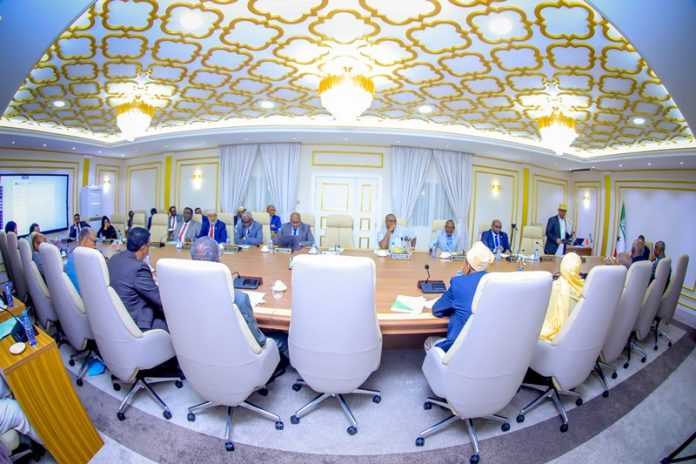 His Excellency, President of the Republic of Somaliland, Muse Bihi Abdi, chaired the 113th session of the Cabinet of Ministers. The Council discussed a variety of issues, including:
Security:

The Minister of Interior, Mohamed Kahin Ahmed, briefed the Council on the latest security developments in Somaliland, including the ongoing efforts to combat terrorism and secure the country's borders.

Economy:

The Minister of Financial Development, Dr. Saad Ali Shire, presented to the Council an overview of the economic situation in Somaliland, and discussed the government's plans to boost economic growth and create jobs.

Climate Change:

The Minister of Regional Development, Shukri Haji Ismail Bandare, briefed the Council on the National Climate Change Policy. She also highlighted the importance of climate change adaptation and mitigation for Somaliland's future.

Data Protection:

The Minister of Communications and Technology, Abdiweli Abdilahi Sufi, presented the Council with the draft of the Data Protection Act and the Cyber Security and Crime Act. The Attorney General, Abdisamad Omar Maal, who participated in the preparation of the two laws, shared a legal report with the Council that discussed the legal implications of the laws and how they would be implemented.

Upcoming Elections:

The Council agreed that the government is always ready for the schedule of elections issued by the National Electoral Commission. The NEC is the only body that has the legal authority to determine the time of the elections.

Somaliland's Recognition:

The Cabinet of Ministers congratulated the members of the British Parliament, led by MP Gavin Williamson, and everyone who participated in the debate on the recognition of the Republic of Somaliland. The Council expressed its appreciation for the support of the British Parliament for Somaliland's sovereignty and independence.