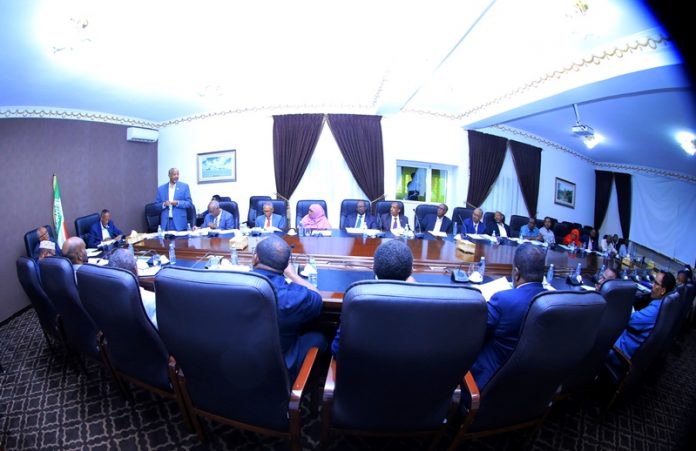 Last Thursday was the 102nd session of the Cabinet of Ministers of the Republic of Somaliland chaired by the President of the Republic of Somaliland, H.E Muuse Bihi Abdi, and accompanied by the Vice President of Somaliland, Abdiraxmaan Cabdilaahi Ismaaciil (Saylici), discussed important issues related to the development of national affairs.
Prior to the start, the Council heard reports about the general security of the country from the Minister of Interior, Mohamed Kahin Ahmed. The Minister also noted the various armed forces of the country who always have the support of the people of Somaliland.
The government also listened to reports from the Minister of Planning and National Development, Dr. Ahmed Adan Buuhane, who spoke about the progress of the third National Development Plan (NDP3), whose completion will be a big development for the country. The Council also listened to a report from the Minister of Public Works, Housing and Land, Mr. Abdullahi Abokor Isman who informed them about the registration of the national property assets of the Government, with the cooperation of the Ministry of Finance Development for some time, we agreed on its completion. 
On the other hand, the Minister of the Ministry of Justice, Mr. Saleeban Warsame Guled in cooperation with the Attorney General of the National Assembly, Mr. Abdisamad Omar Maal, explained to the Council the amendments and amendments made to the Legal Aid Service Act, while the Council promised to discuss in the next meetings.
Finally, the council noted that the government has completed its obligations regarding the elections such as security and all other resources. As the government is following the plan for the time specified by the electoral commission for the registration and elections, we urge all the citizens of Somaliland to vote in the elections without disrupting the peace.