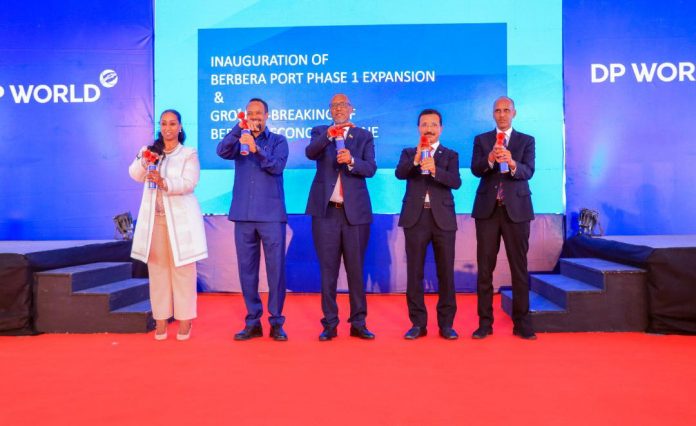 President of the Republic of Somaliland, Muuse Bihi Abdi, today inaugurated a major project of the reconstruction and modernization of the Berbera International Port, which has been expanded by up to 400 meters, following the completion of the first phase of Port Expansion Construction.
The opening ceremony of the Berbera Port was attended by the President and international delegates from around the world, including an Emirati delegation led by the General Manager and Chairman of DP World, Mr. Sultan Ahmed Bin Suleiman, a large delegation from Ethiopia led by the Minister of Finance of the Federal Government of Ethiopia, Mr. Ahmed Shide accompanied by the Minister of Transport, Ms. Dagmawit Moges Bekele, the President of the Somali Regional State of Ethiopia, Mr. Mustafe Muhumed Omar and members of a delegation led by former Prime Minister of Guinea Bissau, Mr. Baciro Dja, a delegation from Kenya.
Similarly, high-ranking dignitaries including Somaliland Ambassadors to neighboring countries and Taiwan, international diplomats, Somaliland Chief Justice Hon. Adan Haji Ali Ahmed, along with the leaders of the three national parties Kulmiye, Waddani and Ucid, Berbera Port officials, council members of Ministries, Parliamentarian have attended the ceremony.
In the auspicious ceremony, the government officials and the delegates delivered speeches on the importance of the port to the Horn of Africa community in general and to the people of Somaliland in particular, and it role in boosting the economy along with the growth in public and government revenue.
In his remarks, the President of the Republic of Somaliland H.E. Muse Bihi Abdi pointed out that the expansion of the Berbera Port will boost international trade and investment, thanking the DP World executives for their resilience. "The work that has been done is promoting our economic development, attracting international investments and will create jobs, and I am grateful to the United Arab Emirates for daring to invest so much in our country, Somaliland, at a time when many governments have opposed it and sparked violent storms claiming that the port can't be built. I would also like to thank the Sultan, the manager of DP World, for his resilience in the face of all adversities and pressures," said President Muse Bihi Abdi.