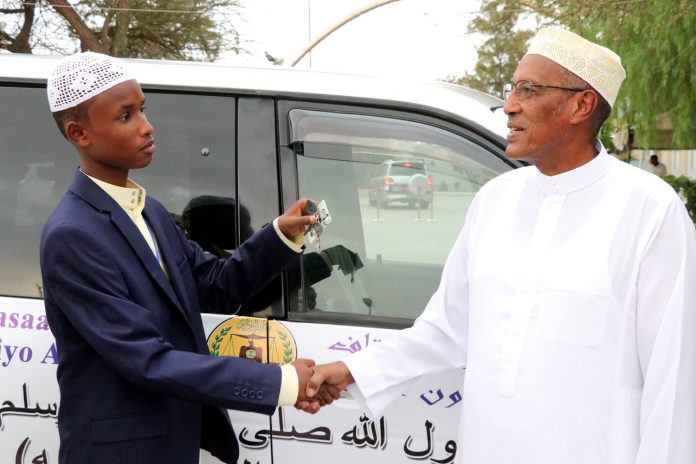 The President H.E. Musa Bihi Abdi bestowed awards and presents upon top Quran reciters who clocked the highest points in this year's National Quran Reciters Competition.
In a plush token of award in the form of a brand new van, a Toyota Noah, the top recipient became Hamza Mohammoud Yasin from Marodijeh region plus a token amount.
The second position went to Ridwan Ahmed Farah from Awdal who was awarded 1300 USD and a laptop computer.
Hamze Osman Abdillahi and Samatar Nasir Hassan from Togder and Awdal regions respectively clinched the third and fourth positions.
They correspondingly received 1000 USD plus a mobile phone and a 700 USD token award.
This year's competition happens to be the sixth consecutive one held at the Ali Matan Mosque and had its sponsor being the President himself.
The competition was organized by the Religion and Endowment ministry.
The Head of State was flanked by his deputy VP H.E.  Abdirahman Abdillahi Ismael Seyli'i, several cabinet ministers, members of the clergy and other guests such as their tutors, parents and guardians.
The Religion and Endowment Director General Adan Abdillahi was at hand to present the function which his ministry organized.
He noted that the event was established by the immediate past President. He hailed the President for aiding the ministry with lots of Islamic books especially Koranic ones.
Hon. Sheikh Khalil Abdillahi, who is the minister of Religion and Endowment thanked the President for having been able to facilitate the competition hence build the morale and standards of religious education especially in Quran recitation.
Eminent clergy Sh. Mohammed Adan who is the Kingpin of the competition spoke on behalf of the clerics.
The President praised the youth in their steadfastness and competence and wished them well.
He hoped that their righteousness would be guided by light emanating from the Holly Scriptures.