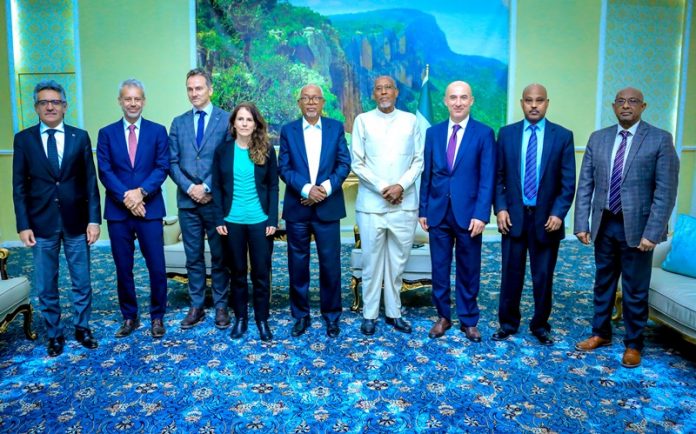 His Excellency, the President of the Republic of Somaliland, Musa Bihi Abdi, yesterday received at the Presidential Palace a delegation from Norway and Turkey led by Heidi Johansen and Aykut Kumbaroğlu.
The President informed the delegation about the many achievements of the Republic of Somaliland which would not have been possible with the strong unity among its people and government. These achievements are the reason why the international community has turned its attention towards Somaliland. 
The President also expressed his position in regards to the Somaliland-Somalia talks, and said that Somaliland is ready for negotiations if the following conditions are met. 
The Republic of Somaliland insists on a Two-state process and a Two-state solution. Why a two state solution? Because we were two independent states that voluntarily united on 1 July, 1960. Additionally, Somaliland has for the past 31 years an independent state enjoying peace and stability. During that period, Somaliland had implemented multiple rounds of free and fair elections. There were 5 peaceful presidential transfers of power in Somaliland. Three of them through direct elections.

All previous agreements must be respected and implemented with immediate effect. This is the only way to build confidence.

There must be an impartial and neutral mediation mechanism that also guarantees the outcome of the dialogue.

There must be a secretariat to manage the record keeping, logistics. The secretariat must be competent, professional, neutral and impartial and strictly confidential.

There must be key principles and code of conduct upon which the Dialogue will be based.

There must be a substantive agenda addressing the core issues of the dispute between the parties.

The dialogue must have a finite time frame.
The President was accompanied at the meeting by the Vice President of Somaliland, Hon. Abdirahman Abdullahi Ismail (Saylici) and the Minister of Foreign Affairs and International Cooperation Dr. Isa Mohamud Keyd.
On the side of the delegation were Heidi Johansen, Haakon Svane, Ole Andreas Lindeman, Harun Arslan and Mohamed Abdullahi Omar.