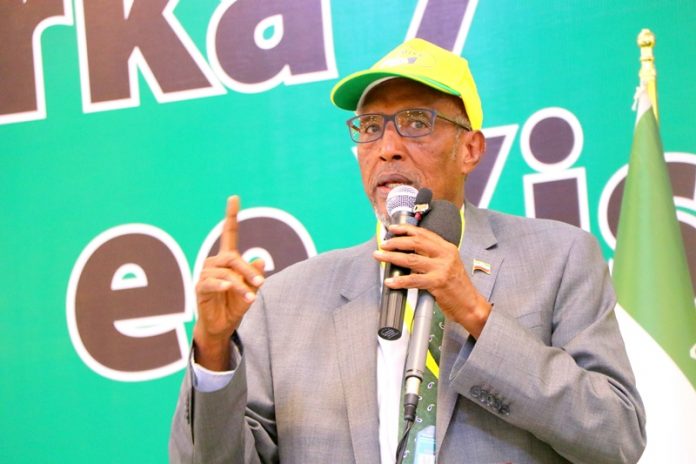 It is a pretense for some international organizations especially a genocies United Nations to continue playing deaf and dumb to the distinct and historical difference between Somaliland and Somalia.
This was stated by the Somaliland president Muse Bihi Abdi in Hargeisa while delivering the keynote speech at the 7th congress of the ruling Kulmiye party's central committee which also culminated with the election of executive committee members as well as approval of the newly appointed party secretary General.
Reveling that a rift exists between his administration and the UN in Somalia, president said that this is as a result of continued Conspiracies geared towards undermining the Sovereignty thence Statehood of Somaliland as he stressed that this mechanisms are being orchestrated by the Mogadishu headquartered Special Representative of the Secretary General –SRSG Somalia whom he urged to act diplomatically as befits his office thus respect relations between this country and the UN
"I ask the SRSG to refrain from further activities that impinge on the Sovereignty of this country" said president Bihi adding that Somaliland and Somalia are two different and separate countries that entered in 1960 a voluntary later turned fateful union leading to dissolution in 1991.
Informing that Somaliland is a fully fledged country the president wondered how the UN expects this country to adhere to policies engineered at the VILLA Somalia which are then brought to Hargeisa as imperatives that should be acted upon expeditiously
"Incongruously this instructions from the villa on how we govern our country are brought to us by senior officials of the various UN agencies operating in Somalia" said the head of state adding that in the recent past these agencies of the global body are no longer performing development and humanitarian work in Somaliland as is per arrangement because they have covertly turned into political actors on the behest of Villa Somalia.
Reiterating that Somaliland is an independent country thence an exercise in futility trying to administer her from Mogadishu president Bihi who cautioned the UN against assuming and acting to the contrary said "It is surprising that of the two countries that formed the now defunct republic of Somalia, the United Nations is undermining and refusing to acknowledge the one, Somaliland that has achieved peace and tranquility while propping up and recognizing the other, Somalia which is a failed state whose citizens are with let being subjected to lose of live, property among many others that can only be termed as crimes against humanity.
"In Somaliland we are now our affairs be it development, democratization, peace building and provision of direly needed public services freely and without fear while those in Villa Somalia from whom the UN is conduit for our instructions operate entirely in bomb shelters that are heavily fortified by thousands of foreign forces"
Though our alleged master at Villa Somalia is recipient of millions of dollars' worth of military and economic support from the UN agencies now turned political actors let all and sundry be informed thus remain with no doubt that Somaliland shall with her meager resources confront any who aspire to impinge on our hard won statehood
The president declared that the priority of the government is  to protect the sovereignty and independence of the country, and no quarters shall be allowed in  defense of the Republic of Somaliland, "the government's priority is to protect the independence and sovereignty of Somaliland regardless of source whether  political, militarily or economic,
On the much touted support Somaliland gets from the UN,  President disclosed that the actual amount is a mere five million dollars in five years thus a million dollars a year, "This is the aid we are supposed to allocate the entire country" said the president as he termed this as a figure not worthy of trumpeting now and then.
"If losing this so called aid and gaining our respect translates to respect for our sovereignty so be it, said Bihi who also leads the ruling Kulmiye party as he told the UN that the only option for continued cooperation is mutual respect.
According to the president Somaliland is better off without any support from those who are determined to fragment her for the sake of so called new Somalia and that as from now henceforth any entity desiring relations with Somaliland shall have to completely and on the onset acknowledge that she is a sovereign nation and not in any associated with Somalia.
This presidential admonishment comes in the heels of a circular issued by the minister of planning and national coordination that informed that Somaliland has suspended all interactions with all UN agencies until further notice.