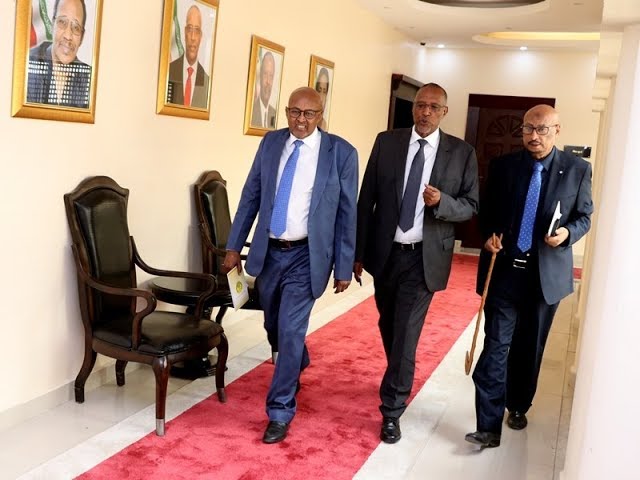 The three national political parties of the Republic of Somaliland, Saturday, reached a landmark accord that brings the year-long differences among the parties to an end.
Kulmiye Party was represented by His Excellency the President, Musa Bihi Abdi, who is, still, the reigning chairman of the ruling party where on behalf of the two opposition parties – Waddani and UCID – their penultimate leaders, Abdirahman Mohamed Abdullahi 'Irro and Faisal Ali Hussein 'Waraabe', signed the new deal.
The parties deplored further term extensions made for the parliament and municipal councils, emphasizing the importance of holding elections on time and at the earliest politically and technically feasible date.
The new deal proposes an increase of the number of Electoral Commissioners to 9 from their current 7, and that the new Commissioners be sworn not later than 15 October 2019 if parliament passes the motion to amend the clause limiting NEC composition which should be concluded before 1 September 2019.
In the event that the parliament fails to endorse the motion, the incoming number of commissioners will remain 7 as before, but that the proposal will be tabled again to the floor immediately after the elections.
The incumbent Commission will technically prepare the voter registration process and equipment but the new Commission will conduct the actual voter registration to be used for the elections.
The three parties underscored the urgency of reinstating a 15-member task force which had been nominated by the parties to work closely with NEC throughout the process before on all tasks leading to the elections, proposing that it immediately roll into action.
The current roster of electoral commissioners will exhaust their term two months before election polling day. They have promised not to leave any technical loose ends for the incoming lot to inherit in order to conduct the registration and poll activities without a hitch. The time they have until election day just gives them the space to familiarize themselves with the necessary know-how, data and laws necessary to conduct these pivotal elections.
Parliamentary elections are slated for 12 December 2019.
The accord was widely welcomed throughout the Republic and by members of the international community present at the event.
The successful conclusion of this accord, once more, testifies to the maturity of the Somaliland political system, democracy and tradition of reaching an amicable consensus on national, critical issues which starkly contrasts the situation in chaotic Somalia for the past 28 years. Source: somtribune.