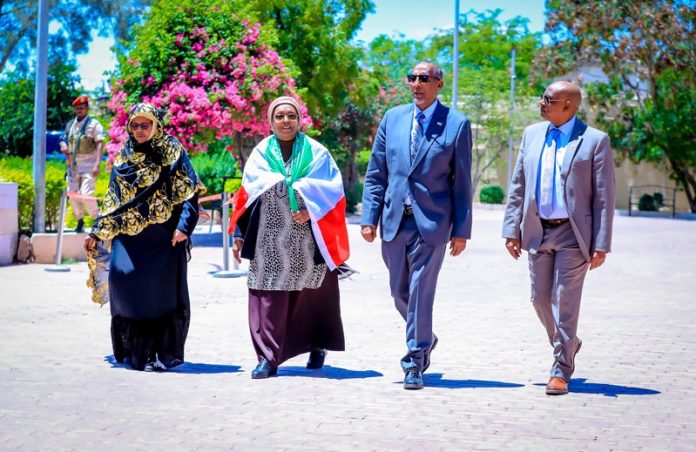 Thousands of Somalilanders welcomed Special Presidential Envoy for Somaliland-Somalia talks Edna Adan Ismail at Egal International Airport on May 28, 2023.
Ismail is a nurse-midwife, hospital founder, and healthcare advocate who has worked tirelessly to improve women's health in East Africa. She is the founder of the Edna Adan University and Edna Adan University Hospital in Somaliland, which have significantly reduced maternal mortality in the region. She is also a former First Lady of Somaliland and a former cabinet minister. Earlier this month, she was awarded the Templeton Prize for her work in advancing women's health and dignity.
After leaving the airport, Ismail was escorted to the Presidential Complex for a large reception and appreciation ceremony held in her honor. The ceremony was attended by H.E. Musa Bihi Abdi, cabinet members, parliamentarians, traditional leaders, and other distinguished guests.
Minister of Rural Development and Climate Change Shugri Haji Ismail Bandare spoke briefly at the forum to congratulate Ismail and praise her success, calling her one of the most valuable assets of the Somaliland community.
Speaking at the ceremony, Ismail thanked President Bihi and everyone else for the warm welcome she received and called on Somalilanders everywhere to continue to work together to build a better future for Somaliland.
President Bihi, who concluded the ceremony, congratulated Ismail and described her success as a testament to her hard work and dedication, and an inspiration to all who know her. The reception was a joyous occasion, and it was clear that the people of Somaliland are very proud of Mrs. Edna Aden Ismail.